Spanish Recital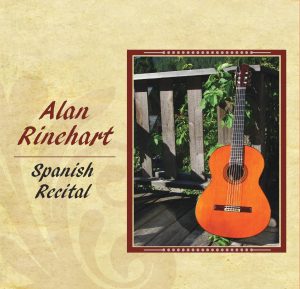 Spanish Recital
track:
1m Villanos Gaspar Sanz (1640-1710)
2m Españoleta
3m Canarios
4-5m Fantasia 12 and Pavana 2 Luis Milan (fl. @1540)
6m Fantasia 18 Alonso Mudarra (fl. @1540)
7-8m Pavana 2 and Gallarda

9-11m Suite in Dm: Preludio, Sarabanda, Gigue Santiago de Murcia (fl. @1750)
12m Variations on 'Las Folias de España' op. 15 Fernando Sor (1778-1839)
13m Andante Largo op.5 #5
14m le Fandango varie op.16 Dionisio Aguado (1784-1849)
15k Asturias-Leyenda Isaac Albeniz (1860-1909)
16m Pavana-Capriccio op.12
17k Recuerdos de la Alhambra Francisco Tarrega (1852-1909)
18-19k Homage a Tarrega Joaquin Turina (1882-1949)
garrotin
soleares
20k Preambulo Federico Moreno Torroba (1892-1981)
21k Oliveras
22k Romance de los Piños
23k Madroños
total:
66:33
(the m and k after track numbers refers to different guitars: (M)ueller (K)ohno)
One of the first things that a concert guitarist considers when contemplating making a recording is doing a 'recital' program. I have avoided this temptation for some time, preferring to create recordings that follow some sort of theme. A well planned concert program will also have certain 'themes' often following a chronological order and be designed to carry the listener on something of a musical journey. This program is based on the music presented in a pair of recitals at The University of British Columbia in Kelowna, B.C. held in the 2012-2013 academic year.
The music of Aragonese guitarist Gaspar Sanz (1640-1710) has an immediate melodic appeal. Originally for a 5 course baroque guitar, his music adapts very well to translation to the modern concert guitar. Villanos (village dance), Espanioleta and Canarios (dance from the Canary Islands) are from his 1697 method book.
Both Luis Milan and Alonso Mudarra left substantial bodies of music for the vihuela, a 16th century Spanish ancestor of the guitar that was tuned like a lute. Fantasia 12 and Pavana 2 are from Milan's huge 1536 volume El Maestro. Mudarra's three books of music include music for the four course guitar and six course vihuela. Fantasia 18 foreshadows a baroque fugue with well developed counterpoint based on the four note motive G-F#-D#-E.
Santiago de Murcia was active in the first half of the 18th century. Little is known of his life apart from his having a respected career that may have even included time spent in Mexico. His music shows a considerable skill with styles popular at the time. He played a 5 course baroque guitar.
Fernando Sor (1778-1839) and Dionisio Aguado (1784-1849) were pioneers in the development of the modern guitar with six single strings. They were both students of Padre Basilio, a legendary guitarist and instructor in Spain, and they both enjoyed active careers as performers, composers and teachers throughout Europe. The varied fandango is reminiscent of a famous fandango by Boccherini. The popular tune/chord progression 'las Folias de España' was often used as a subject for variations.
Few composers produced music more closely associated with the guitar than Isaac Albeniz (1860-1909), a curious fact considering he never wrote for the instrument. His Asturias-Leyenda, the Prelude of his great piano work Chants d'Espagne (Songs of Spain), is one of the great staples of the guitar repertoire. His lesser known Pavana-Capriccio is full of considerable charm.
Arguably the most often studied and performed original guitar work, Recuerdos de la Alhambra memorably reflects the fountains of the Alhambra palace in Granada. Tarrega (1852-1909) is often seen as the father of the modern concert guitar technique, this may not entirely be the case but his skill as a performer, composer and arranger built a legacy that provided a firm foundation for the young Andres Segovia.
Crusading tirelessly for the acceptance of the guitar in the larger classical music world, Andres Segovia actively encouraged non-guitarist composers to write for him. Two of the first composers to answer the call were Joaquin Turina (1882-1949) and Federico Moreno Torroba (1891-1981). Turina's Homage a Tarrega from 1932 is distinctly Flamenco in spirit. I have combined four works by Torroba into a suite inspired by different trees; Preludio and Oliveras (olive trees) are from Seis Piezas Characteristicas, Piños (pines) from Castles of Spain, and Madroños (arbutus) is a stand alone work.